Large hand shape bronze sculpture with patina

Bronze monument sculpture-Etiquette Gate

Art Sculpture No. & Name
bronze hands
Dimension (Height x Width x Depth)
H 31m
101 Feet in Height
Material

Internal structure mild steel
Artwork Surface treatment
Mirror polishing
Lacquer coated
Matte
Electroplate
Brushed
Hairline
Patina

O
| | |
| --- | --- |
| Artwork Finished Time | 2010 |
| Installation Location | Henan, China |


Material: Copper
Size: 31 meters high (H101.7ft)
Finish: Patina,
Location: Henan, China
Bronze sculpture has a long history, dating back to the Zhou and Shang dynasties in China and even earlier. Ancient bronzes were usually widely used in life and appeared mostly as vessels. With the change of the times, various cultures leftover from history is also constantly progressing. People are no longer satisfied with single art sculptures such as stone carving, wood carving, clay sculpture, etc., and continue to expand to metal. Metal sculpture can not only reflect a kind of metal texture but also can preserve its integrity for a long time. There are usually bronze sculptures, stainless steel sculptures, corten-steel sculptures, steel sculptures, etc...

As an ancient and popular material, bronze has been continued to this day and used in more and more extensive forms in various artistic creations, such as little bronze souvenir sculpture, bronze statue sculptures, large bronze monuments sculpture, and so on are most preferred to use bronze.
This so-called China's largest hands is no exception. It is different from the traditional bronze casting method and is made of copper by pure hand forging. Compared with the lost wax or sand casting method, hand forging can ensure surface flatness and no sand hole.
The design of this large bronze monument sculpture was completed by a Chinese artist and named the Etiquette Gate, with a total height of 31 meters and a patina surface, it was installed in Henan, China. Crossing your fingers in China is also a symbol of etiquette, so this bronze monument sculpture made of copper is also a commemoration and inheritance of traditional Chinese etiquette.

Completed Job
Site installation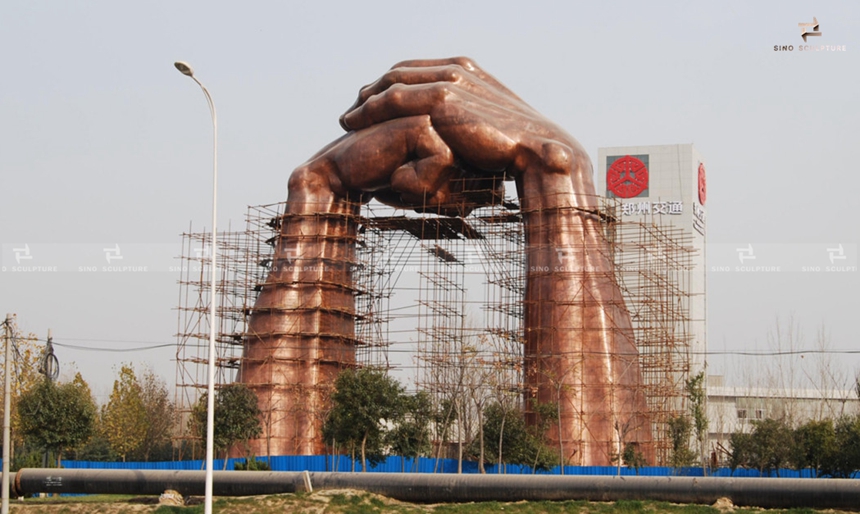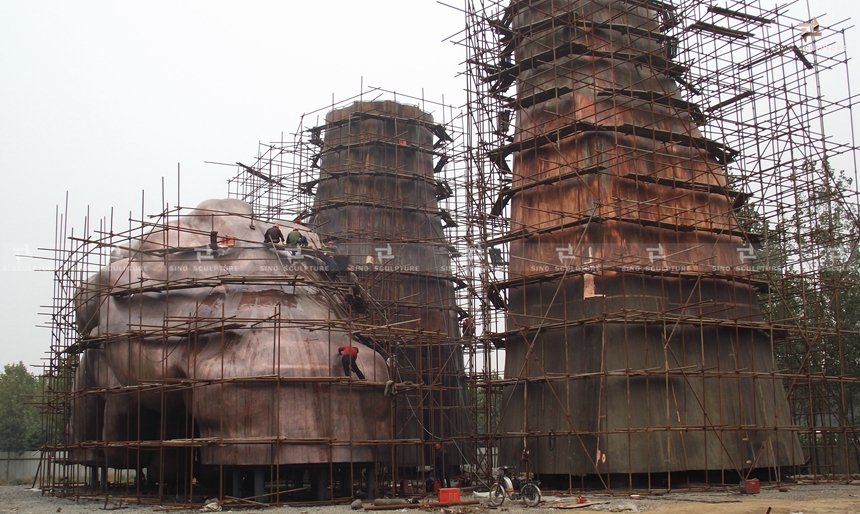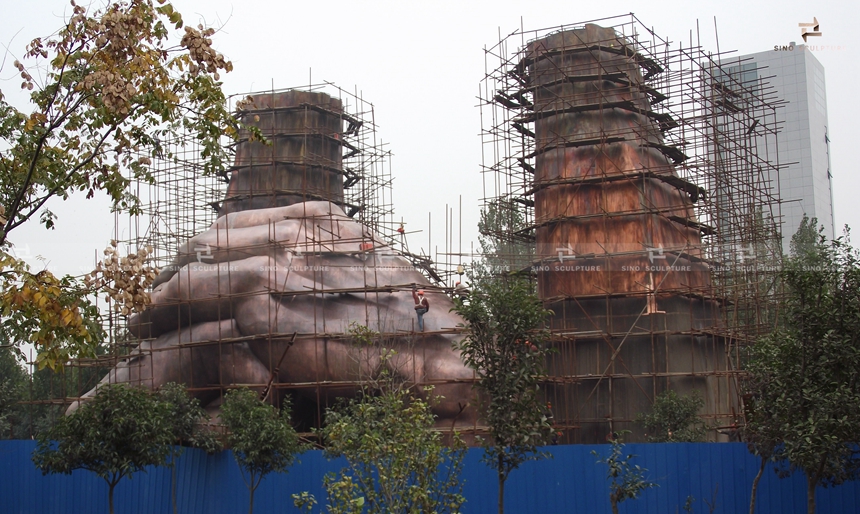 Hot tags: forging bronze sculptures, China forging bronze sculptures, forging bronze sculptures factory, forging bronze sculptures manufacturer, bronze sculpture, forged bronze sculpture, bronze statue, custom bronze sculpture, custom bronze public sculpture