Basic Information of This Sculpture

Art Sculpture No. & Name
Smilling Red Boy culpture
Dimension (Height x Width x Depth)
H 0.29m
0.11 Feet in Height
Material
Artwork Surface treatment
Mirror polishing
Lacquer coated
Matte
Electroplate
Brushed
Hairline
Patina
O
Artwork Finished Time
2010
Installation Location
Beijing,

China
Chen Wen Ling
The Waking of Insects,
Material :Bronze Painted Red
Size : 29 x 8 x 10cm
Singapore Contemporary Art Museum


This piece of the bronze contemporary sculpture is created by Sculptor/Artist Mr. Chen Wenling,
Little Red Man sculpture is one of his masterpieces. Embodying the carefree and liberated childhood of the children that he encountered in his hometown of Anxi, the Red Memory series is evocative and nostalgic. Creating this series in retrospect when recalling his happy childhood years, these sculptures were a commentary on the possible laid-back manner of addressing life instead of the pursuit of materialism and conspicuous consumption.

SINO SCULPTURE is an intelligent manufacturer of metal art recognized by Mr. Chen. It is perfect for precision casting through the loss wax casting method: 1: 1 Scale mold, Wax mold fixing and precision repairing, casting, welding and polishing and red spray paint. The perfect realization of this bronze contemporary sculpture.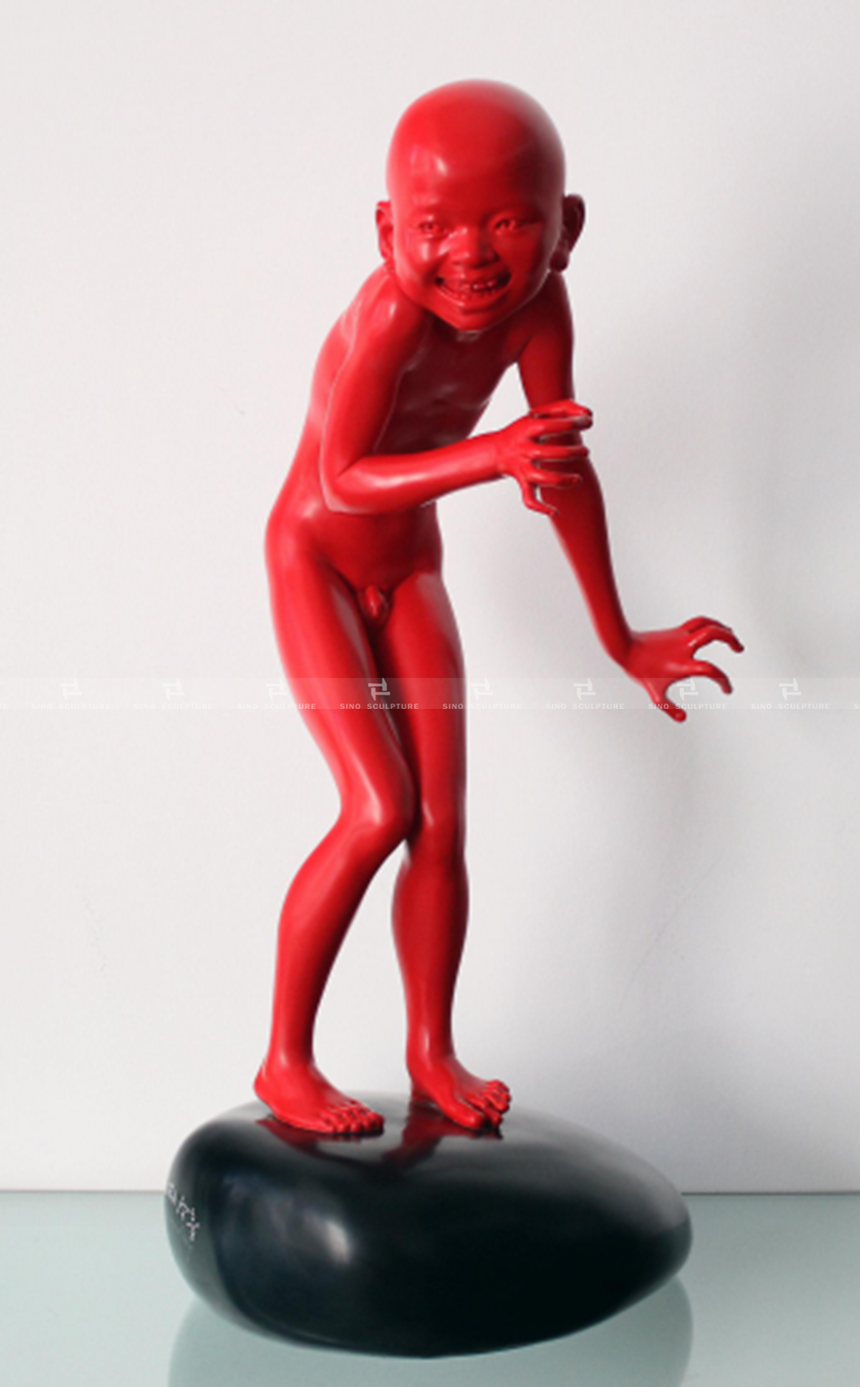 Packing & Shipping Bronze contemporarty sculpture

Before fabrication, we will make a suitable packing and shipping plan for Bronze contemporarty sculpture pieces. We have coordinate the professional artwork crates company who can pack the sculptures in export standard. Cooperating with the specialized shipping agent for the shipping service in ocean shipping, air cargo and international express, to ensure the clients will receive the mirror stainless steel sculpture artworks without any damages and timely.





Installation Cases and Introduction.

For large mirror stainless steel sculptures, and projects, it commonly will cut into many sections for shipping, and then reassembled at site, we Sino Sculpture have a professional overseas installation team. They can handle the site installation work coordinates with local technicians. We Sino sculpture also can provide technicians to the site for installation instruction and support for the client's installation. For easy-handling installation work, the instruction drawings will be provided and the client can install it refer to it by themselves to cost-saving. Any how, we Sino will give a best and easy-operated method for every client. Below is the last 5 years typical projects site installation over the world.



F&Q

1. What are the main materials you used to make sculptures?
-Stainless steel in degree of 304, 316, 316L.
-Silicon Bronze; Tin bronze; Copper.
-Corten steel
-Mild steel.

2. What is the main material used as the internal structure?
- 304 degree stainless steel;
-mild steel.

3. What are the main methods or crafts you used to make a sculpture?
- Hand forging (new type of sculpture fabrication)
- Casting (Traditional way)

4. What is the progress of the above 2 crafts and any differences?
-Hand Forging: Modeling - Cutting metal panels - Hammered & shaped metal panels by hands - Welding&assembly - Grinding & finish -Installation.
-Casting - Modeling - Lost Wax/sand casting - Welding&assembly - Grinding&Polishing - Installation.
The main difference of the 2 crafts is that, hand forging is a way that directly use metal panels to shape the form of the model, which is similar to wear a cloth outside of the model. It will not change the material's physical characteristics, no need to heat and melt the metal material. While traditional Casting have to heat by coal, it may cause its chemical component changed and caused some pollution(air pollution, solid pollution etc.).

5. What is the main finish you can do?
-Stainless steel sculpture - mirror polishing, hair line, spray painting, gold leaf, electroplate, titanizing, patina.
- Bronze/Copper sculpture - patina, spray painting, gold leaf, gilding.

6. How do you pack the sculptures and which way you can deliver?
-Small size sculpture, first is a very soft and fine pearl foam to wrap the sculpture safely, and second is bubble plastic air bubble film to wrap, and then put it into a plywood box which 6 insides were covered by 5mm thick pearl foam, and fixing the sculpture in the export standard box security in by extra soft material.
-Large sculptures, cut it into small sections based on the loading dimension of Containers, and then pack each section with steel frame.
-Deliver way, sea freight, air freight. rail freight, express.

7. What are the trade terms you company can be applied?
-EXW, FOB, CIF, DDU, DDP etc.

8. How is about the payment terms of your company?
-T/T, 20%-50% as the deposit, and the balance shall be paid before shipping.

9. Can I come to visit your factory?
-We Sino warmly welcome any time.
Hot Tags: mirror stainless steel sculptures, stainless steel sculpture, mirror stainless steel bean, mirror stainless steel artwork, stainless steel sculpture foundry, mirror stainless steel sculpture, polish stainless steel sculpture, polishing stainless steel sculpture, mirror stainless steel urban sculpture, China, factory, manufacturer
Hot tags: Bronze contemporary sculpture,Bronze Painted Red scultpture,bronze casting art sculpture, China casting bronze sculpture, casting bronze sculpture factory, casting bronze sculpture manufacturer,